Functional Training in a Private Facility.

What is Functional Training?
Functional exercise is a ground-up, total-body integrated training approach that emphasizes movements rather than muscles. This type of training can prepare your body to perform well in a variety of situations—at home, at work, or during your favorite sports. With an emphasis on core stability, functional exercises train your muscles to work together, improving balance, agility, strength, and reducing risk of injury.
The goal is to give you more strength and mobility for doing the things you love, from the everyday to the extreme.
---
See What Training with Rob Can Do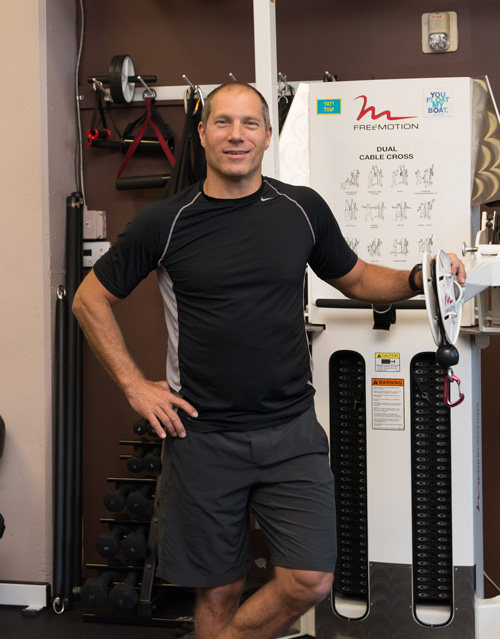 After 26 years of living in Ketchum, it's official that Rob now calls Idaho his true "home." He originally hails from Garden City, New York and while he left the Big Apple behind, he still retained just enough of the attitude. Over years of living out west, Rob has become a true outdoorsman, gear-head, and weekend warrior that people who make Ketchum, Idaho their hometown can understand. Rob's love for outdoor adventures helps him design custom gym workouts to help his clients achieve results in both everyday living and their outdoor pursuits. 
Rob works with athletes of all ages—with a serious emphasis on sustainable safe, effective training—from high school all the way through the silver-haired, young-at-heart athletes in their 70s and 80s.
Rob brings his passion for life into his 14 years of personal training. His goal is to improve your life away from the gym by giving you the tools and training inside the gym. 
Testimonials
a.k.a Rob's Clients Doing Cool Sh*t
Rob's clients are living, breathing examples of the benefits of his training. Like Rob, they like to live life to the fullest and don't want to be slowed down by injuries. They also like to get the most enjoyment possible out of their adventures and travels, and that's where the word "functional" in "functional training" comes into play.
Read their stories and why they choose Rob's training to play golf, climb mountains, and everything in between.
"Rob Freeman was instrumental in getting me in great shape for Mt Rainier and continues to be my 'go to' guy for fitness in the wood river valley." -Tim Wolff
"Training with Rob provides me the strength to enjoy and explore this amazing place we live. Whether it is biking, hiking, skiing, running or golf, his workouts, guidance and motivation has allowed me to do more than I ever have before." – Dave Hennessey
"Dick and I like training with Rob because we love being able to 'adventure' travel." – Laurie Hamlin
"

Hiking up in the jungle at 10,000 to 12,000 feet was easy Thanks to my ongoing training with Rob!

" – Jim Taft
MAKE AN APPOINTMENT.
VISIT.
360 Ninth St. East #1
Ketchum, Idaho 83340
---